George Ormiston hammers a square piece of wood into the lathe. Precision is required as it is made from granadilla wood from Tanzania – particularly hard, ideal for flutes.
"First round, then the hole through the middle". The 68-year-old flute maker explains that the valuable pieces of wood are processed repeatedly: twisted and punched, and dried for up to a year in between. "In all, it takes six years for this flute to be finished."
good things take time. Trained Engineer has been manufacturing musical instruments in Scotland for 41 years; He and his two assistants make 40 flutes per year. He also makes some small flutes. You won't get rich with it, but it's enough to live on and George Ormiston really can't imagine anything more beautiful. It has enough wood stock, he made sure, as good rosewood was already in short supply before the Brexit decision.
But: "I can see bigger problems in the future because, for example, our silver comes from Germany, other things come from Korea and other things come from Italy and Holland, which come from different countries of the world. And She won't be there anymore. Just like now."

doomed Brexit
George Ormiston fears import duties. But the charges on his flute would impress him more:
"I can imagine that we'll get another 20 percent. If I pay 20 percent more – customs duty at the border – then I'll earn 25 percent and if I add 25 percent to my flute, our instruments, you sell People outside the UK can forget. And then you really have to stop."
Scott, who is married to a German, exports more than two-thirds of his flute production to the European Union. Many of his clients live in Germany, where Georg Ormiston himself worked for some time.
bagpipes made of goretex
His business neighbour, Alan Waldron, probably won't be significantly affected by Brexit. Bearded Scott has been manufacturing and repairing bagpipes for 26 years; 11 years earlier he moved from the capital Edinburgh to Stirling, where William Wallace – better known as Braveheart – defeated the British in a heroic battle in 1297.
"For me, Stirling is perfect: just one street up is the famous castle. This castle is visited by 600,000 tourists every year. Stirling is like a miniature Edinburgh and its existence belongs to the rock and those who live on the 15th/16th Were important in. Century Castle."
Inevitably, visitors pass through Alan Waldron's Bagpipe & Kilt shop. He also needs African blackwood for his bagpipes. The process is tedious: the wood has to dry thoroughly. It takes up to a year to make a good bagpipe. The already made pieces for 14 parts of wood on the equipment have to be rotated and processed over and over again. The sack can also be made from goretex, which is no longer necessarily made from sheep or cattle skin.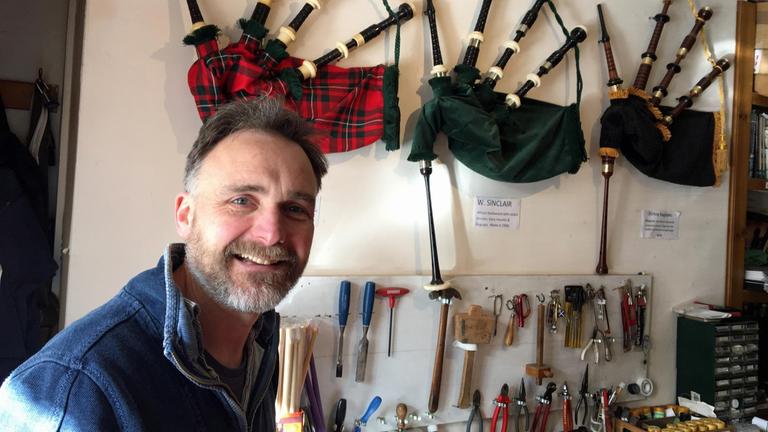 "Titanic" sends its connection
Alan Waldron sells his handcrafted bagpipes, which have nothing to do with cheap imitations from India, around the world. For them too, Britain's exit from the EU means more difficult trading conditions.
"To France, to Germany – I export about 10 to 15 percent there, 20 percent goes to the USA and Canada, recently I sold a set to the Falklands, others go to Hong Kong, Singapore … everywhere. "
No wonder, as 10,000 bagpipers and drummers flock to Scotland every year for the World Cup. Many have their valuable equipment serviced and repaired by Alan Waldron. The bagpiper also lives with this. It protects her from the consequences of Brexit – which, however, she has a firm opinion on:
"It's like being on the Titanic. Scotland is looking for a lifeboat, while Westminster doesn't want to change course or slow down, even when the iceberg is approaching. We make ourselves a joke of the world, but of course Europe." Scotland but will take a different path. All the bagpipers that come here are for independence. It is only a matter of time: in two or three years Scotland will be independent and part of Europe."
Flute maker George Ormiston gets even more clear:
"This whole thing is so crazy. It doesn't make any sense. It doesn't make sense to people like me who have businesses like me and either import or export things to the EU. Everyone says the same thing Whether it's two or three or a small business with 250 or 1000, they all say the same thing: This is so stupid."
Freelance twitter maven. Infuriatingly humble coffee aficionado. Amateur gamer. Typical beer fan. Avid music scholar. Alcohol nerd.